Main
---
Los Angeles
---
Houston
---
NYC
---
London
---
Australia
New Orleans by way of Iceland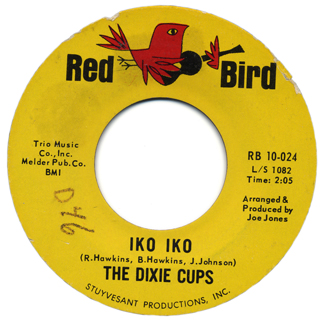 "Iko Iko" by the Dixie Cups, Red Bird Records, New Orleans, LA, 1965.
---
About five years ago, Soul Jazz Records in the UK put out an outstanding pair of compilations of New Orleans funk and jazz ("New Orleans Funk" and "Saturday Night Fish Fry"), which I highly recommend. They have done an outstanding job pulling together songs - many of which were only locally released in small quantities - some of which provided drum breaks which were sampled for beats in hip hop tunes - fully licensed the tracks, and provided excellent historical information about the music.

One of the songs on the second volume that I'd not heard before was a song by the Dixie Cups - a version of "Iko Iko", which I absolutely loved - I think maybe everyone knows the song (probably from the Belle Stars version from the 1980s), but this early version just absolutely floored me with its simplicity of handclaps, percussion, upright bass, and trio of voices echoing around inside a room.

Turns out the Dixie Cups were a trio of high school girls, and they were just messing around in the studio in 1965 banging ashtrays with drumsticks and singing a version of a traditional Mardi Gras chant from the 40s/50s that they had learned from one of their mothers. They didn't even know that the engineers had the tape running...
---
Shortly after those compilations came out, I was in New Orleans for some meetings for work, and during some spare time in the evening while poking through a record store, I spied a little dusty box of 45s back in the corner on the floor, and found a copy of that Dixie Cups single nestled amongst some zydeco records.

Fast forward a few years...last summer when I was in Iceland, I took the Dixie Cups 45 with me and played it when I DJed at my favorite club Sirkus, and ended up putting it on one of my Summer Tour mix CDs, a copy of which I gave to my friend Jón Atli who had let me open for him. I went away for a few months, and the next time I was in town, Jón played that Dixie Cups tune during his set - I think from my mix because I thought I heard the fade out from the previous song - and the whole room erupted in cheers...apparently it had become a local favorite.

I remember standing on one side of the club, watching everyone smiling as the sound of hand claps and drumsticks on ashtrays clicked and echoed around the room - to think that a couple of high school kids in the mid 60s who had ended up recording a song more or less accidentally a couple thousand miles distant, an ocean away, and 40 years ago were still making a room full of people happy - it was such a beautiful moment.
---
I thought back to that moment this past week while viewing the destruction and tragedy left in hurricane Katrina's wake, and wondered what was left of the city and the people who lived there. What happened to the neighborhood where the Dixie Cups grew up - the poor Thirteenth Ward - and all the people who lived there? Were they the ones left behind, stranded and forgotten when the storm and flood waters bore down on the city? What happened to the old fellow sitting in the corner of the record store where I bought the record, who told me stories about local artists while I was poking through the 45s?

New Orleans may well never be as it was - the human loss is far too great, the shock far too sharp - but based on a roomful of smiling Icelandic faces, I know that its heritage, music, and proud spirit will live on, even if not in the most expected of places.

(The sound sample at the top of the page was recorded from the 45 I found in New Orleans. If you like it, please consider buying "Saturday Night Fish Fry" so that the Dixie Cups will get paid.)
---
If you'd like, you can email me here: richard@hearingmusic.com.