Main
---
Los Angeles
---
Houston
---
NYC
---
London
---
Australia
Oasis
---
Noel Gallagher used to write me way back in the day when he was a roadie for a sadly underappreciated Manchester-based band called the Inspiral Carpets. But then he got too big for his britches and started getting all loud and silly and forgot his pal in the US. So if you're out there, Noel - NO SOUP FOR YOU! I have to give him and his bandmates lots of credit - in one of the singles from their last album, they 'borrowed' a good portion of the song - the drumbeat comes from veteran blues dude Johnny Jenkins (previously sampled by Beck in 'Loser'), and the snappy little backing organ bit sounds awfully reminiscent of Beatles (Lucy in the sky, perhaps?). Geez - I didn't know it was that easy to make a hit single. In that case - be looking for my new album to come out soon. It will be called Led Zeppelin 4.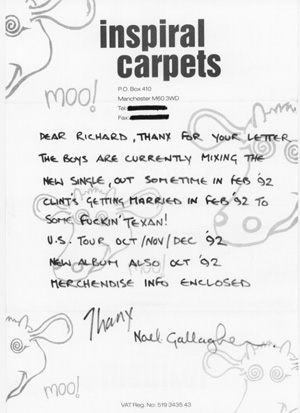 ---
If you'd like, you can email me here: richard@hearingmusic.com.

Oh, and all content on these pages is copyright Richard Lewis.